MHC-V81D High-Power Home Audio System with Bluetooth® Technology
High-Power Home Audio System with Bluetooth® Technology
Feel the party all around
Get the festival experience anywhere. With 360° LIVE SOUND and light from the MHC-V81D, everyone at the party can enjoy the same high-quality sound and festival atmosphere.
Drop a beat with Taiko mode
Drum along to the music — just tap the touch panel. Play against friends in Taiko Game mode.
Seamless streaming with NFC and BLUETOOTH®
Simply use NFC One-touch to make a Bluetooth® connection and get streaming instantly.
Roll with it
A handle and caster make it easy to roll the MHC-V81D from place to place.
Experience 360° LIVE SOUND
Enjoy the same high-quality sound, wherever you are in the party. 360° LIVE SOUND spreads sound in every direction, so everyone's dancing to the same beat.
360° Party Light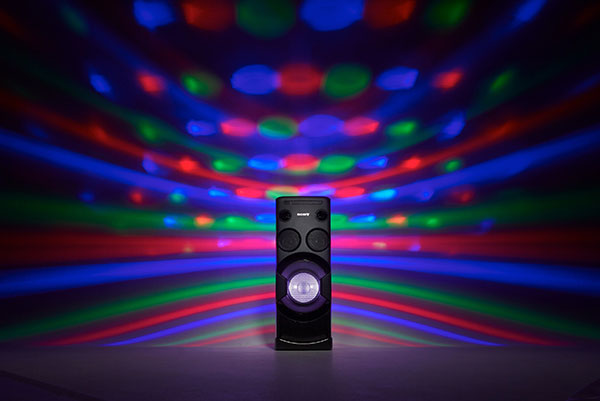 Light up every corner of the party space with a 360° Party Light and enjoy an authentic nightclub or festival atmosphere.
Play along to the beat with Taiko mode
Add your own drumming into the mix with Taiko mode and put your rhythm to the test when you play against friends in Game mode.
Run everything from the dancefloor
The Sony | Music Center app lets you control music and sound settings right from your phone. Plus the Fiestable app puts you in charge of the light colours and lets you activate DJ and karaoke modes. Make changes with a flick of your wrist thanks to intuitive motion control.
Functions
CD                    Yes

DVD                  Yes

USB1                Yes

FM                     Yes
AUDIO IN1        Yes

TV                      Yes (HDMI), (AUDIO IN)

BLUETOOTH® Yes (iAP over BT)
---
We Also Recommend
---