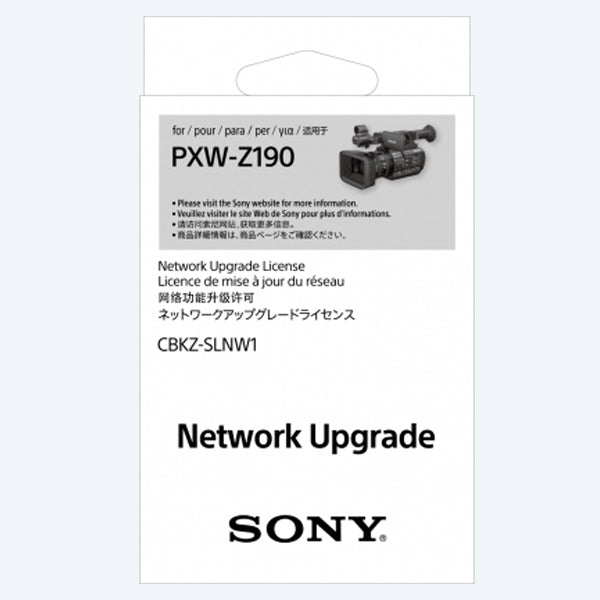 CBKZ-SLNW1 PXW-Z190 Network Upgrade License
Rs. 30,000.00

Save Rs. 30,000
---
---
Network Workflow flexibility

The PXW-Z190 4K Handheld Camcorder is easily upgraded to offer advanced network capabilities with the permanent CBKZ-SLNW1 upgrade license. Once this software license is installed, the Z190 is capable of live streaming and file transfer using a wired or wireless LAN or LTE modem connection, enabling immediate editing and live monitoring. Advanced Content Browser Mobile™ features, including trimming proxy and high resolutions clips prior to sharing, are also enabled.
XDCAM air secure wireless workflow*

High quality H.264/HEVC QoS Streaming to Sony's Network RX station **

Stable and High Quality Dual Link QoS streaming using two mobile networks via USB modems

Network Intercom**: connect a third-party headset using USB port to enable communication between the camera operator and receiver

MPEG TS UDP streaming to compatible third-party and Sony wireless receivers

FTP Transfer of proxy and high resolution clips to remote servers

Wired LAN streaming and file transfer

Additional Content Browser Mobile™ functions including: adding Shot mark to Clips, Renaming Proxy Clips, downloading Proxy Clips to mobile devices and Proxy Edit by Story Board

Trimming proxy and high resolution clip prior to sharing
* Please contact your local Sony specialist for XDCAM air availability in your region.

** Requires optional PWS-110RX1A receiver with appropriate license or XDCAM air contract.
---
We Also Recommend
---
---